What is CA method?
CA method is comprised of a diagnostic tool using a palette of eight colours, and calibrated sets of words, images, and videos. These elements are edited to answer specific questions or issues. The collected data is then automatically evaluated online in the computing core. Diagnostics outputs consist of results in numeric form, which are reprented by output reports. In certain applications artificial intelligence is an integral part of the process. To learn more about how the CA method diagnostics works, visit the How it works section.
How it works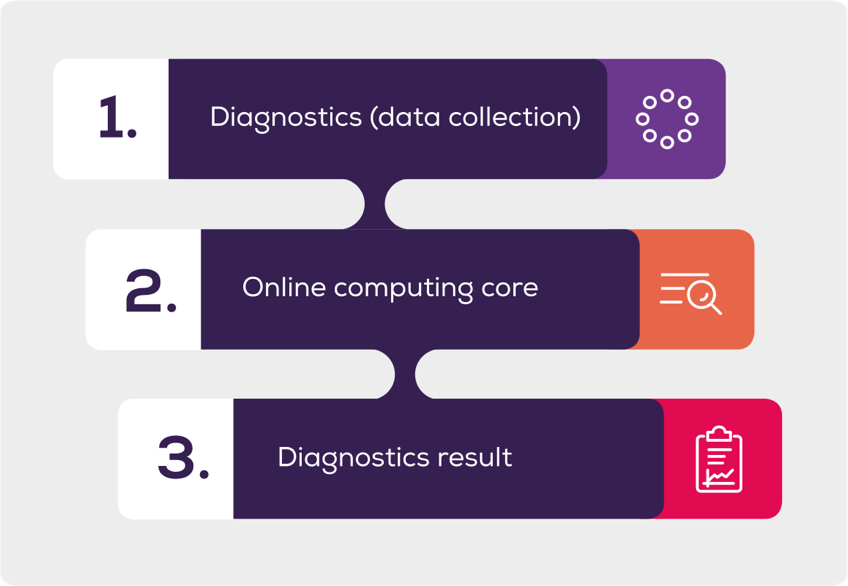 Methods of validity and reliability applicable to CA method
Validity and CA method
The validity of a test is the extent to which the diagnostics accurately measures what it is supposed to measure. In psychological and pedagogical testing, validity means the extent to which evidence and theories support interpretation of test results consequent from the proposed use of the tests.
One of the standard approaches to measuring the validity of psychometric measurements is to compare the new questionnaire with another already validated quesionnaire based on the same phenomenon. Then, the degree of agreement between the questionnaires on multiple points dictates the validity of the new questionnaire. We cannot use this method to validate CA method. Standard pyschometric quesionnaires measure the rational subsystem of the brain, while CA method measure the social, emotional and somatic subsystems of the brain. For more information on what CA method measures, read about the Object-Communication Analysis of Consciousness (OCAC) Method.
In order to demonstrate validity, we must concentrate on other methods that can measure the phenomenon that CA method focuses on in order to coroborate our findings.
What measurements of validity can CA method use?
Empirical Validity
Since its inception, CA method has been verified using empirical validity. In other words, when comparing the observation of respondents in practice, with CA method results, the results correspond.
Recent studies published at conferences continue to support these findings.
Detail of study
Construct Validity
Convergent construct validity was demonstrated by testing two hypotheses of the shame and guilt processes – see document Construct Validity of SHAME and GUILT processes.
Detail of study
Criteria and Predictive Validity
The objective of this research is to verify the ability of criteria and predictive validity of the SoftSkillers tool (www.softskillers.com). This tool is based on CA method for predicting the success rate of employment of secondary school graduates with a focus in Information Technology, Engineering, Electrotechnology, Nutrition and Food, Woodworking, and Civil Engineering. At the same time, the graduates were not interested in continuing their studies.
The study also included a comparison with the Freiburg personality questionnaire.
The study concludes that graduates who have strong soft skills in Efficiency, Independence, and Collaboration, have a better chance of getting a job, which in turn was confirmed by the defined needs of companies in the region and industries in question. Therefore, it can be stated that the parameters measured by CA method have criteria predictive validity.
At the same time, however, it also proves again that it is not appropriate to subject CA method to simultaneous validity tests with questionnaires.
Detail of study
Reliability of CA method
Reliability is a statistical variable indicating the degree to which the result can be depended on to be accurate. In this case, it measures the degree to which CA method diagnostics can be depended on to accurately measure human characteristics. It shows whether or not similar results are repeatedly obtained by the diagnostics. We investigated the reliability of CA method in a test-retest study.
Detail of study
CA method vs Questionnaire Methods
A variety of methods can be used to diagnose an individual, or groups. One of these methods is a questionnaire, or survey.
Alongside observation and interviews, the questionnaire is one of the most commonly used methods for data collection. Questionnaires are used in pychology, recruitment, business, marketing, and many other industries. The questionnaire is unique among the different methods due to the extent of its use, and in practice its simple application and compilation. Respondents generally know this method.

The questionnaire method is usually classified as one of the subjective methods. Subjective methods, or more specifically the questionnaire method, bears the risk of creating and compiling the tool itself. In a questionnaire, it is possible that questions may seem ambiguous, emotionally biased, or even lead the respondent to a particular answer. The interviewer's personality or the respondent's stylization can also significantly influence the result of a questionnaire. Answers to the questions are obtained in a questionnaire survey due to the rational consideration of the respondent. Therefore, it is possible that a questionnaire may provide inaccurate or misleading information.
When compared to the questionnaire method, CA method is innovative and has little to no influence from the interviewer becuase it is based on data collection using online diagnostics. When people respond to stimuli triggered by words and colours, they do not know why they choose a particular colour. Their choice is completely intuitive. Every choice they make has its own reasons, however, these mostly lie in unconscious reactions. CA method then reveals whether the reaction has to do with emotions and relationships, whether it is a physical reaction or whether it is a completely intuitive reaction that they are not aware of. The respondent cannot control these causes and cannot rationally regulate them, they come by themselves. However, this method can describe and evaluate it, which is its greatest added value. It can measure different areas than a questionnaire is able to.