The specific risk of a quality method is that it sees beneath the surface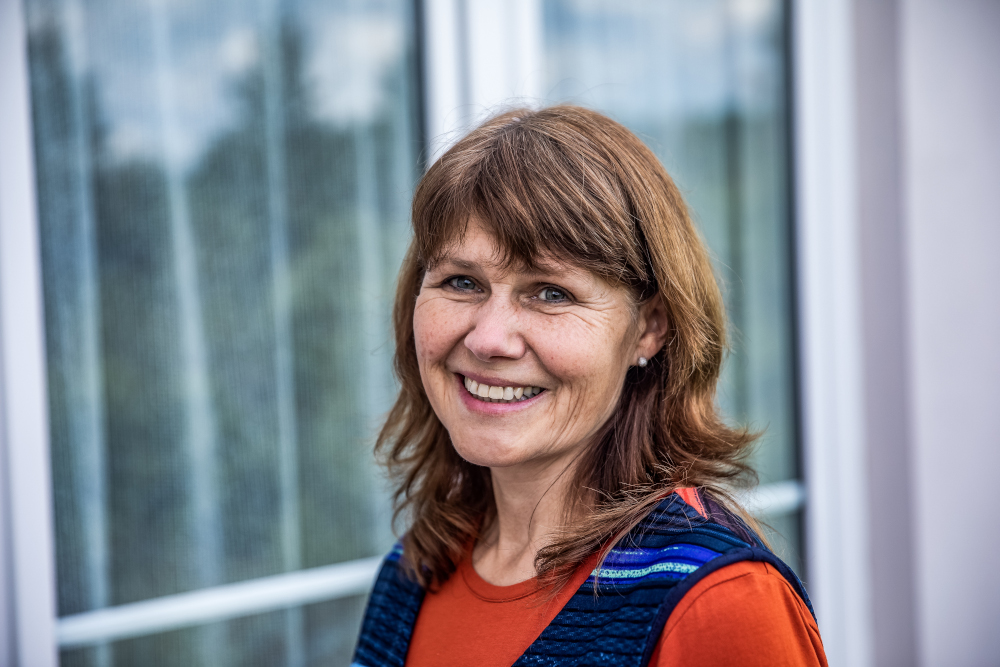 Photo: Michal Fanta
What is your approach to diagnostics methods in your psychological practice? Do you find them necessary when working with clients or are there cases when it is better not to use them?
When a new client comes to see me, I first make my own judgment and rely on intuition. Diagnostics is a means for me to obtain information that is not visible and is important. And when is it better not to use diagnostics? Exceptionally, when a person is in such a difficult situation that he or she simply has to survive it and gain time to breathe and live on. And for where and how to go next, the diagnostics are very suitable again.
You have been working with CA method for over 10 years. In which area do you use it the most? Can you give an example?
I'll start a little broadly. I see the advantage of CA method in that it gives me complex information about the inner world of a person, but also about their manifestations – this is a very good basis for all psychological counseling, isn't it?
I spend most of my time on professional and personnel consulting. I use CA method as a tool to help companies work with human resources. The Method answers what kind of management is effective for people, how the composition of the team contributes to the fulfillment of tasks, what specific benefits employees would appreciate, whether current working conditions support work performance, etc. They do not have to try something that does not work.
But I also have experience when the information from CA method only served to confirm what the company already knows, but the management does not want to solve it now. However, they already count on the problem today as a hidden threat to the future.
I remember a seemingly unsolvable case. A high school student came to see me. Everything went well for him at school, so he didn't even know which profession to choose. The assignment was something like this: "I know I'm smart enough and I have a great memory. At school, they advise me to go to medical school, but I don't like learning. I'm from the village and I enjoy doing something outside, I play theater with amateurs, I go to the fire brigade, I help organize events in the village. If I went to work after graduation, I have no idea what I would do. I should probably go to college, but I don't know which one."
And the solution? Diagnostics has suggested – you need to look for a field where there is something from everything. You can handle a lot of things, especially when they are interesting and not too hard, and your study program should include practice in the field. The rest was up to the student. After three years, he called me to say that he first found one school on ecology, and then he saw that he would need the knowledge of the law and started studying two schools at once. He saw in it a sense of future application and he managed it. It never occurred to him that he could go to two schools at once and he would still enjoy it.

From your point of view, what information can and cannot this projective method provide?
CA method provides a whole range of information and relationships between them, so I'm glad I can work with this Method. The results show how the client lives. Specifically, what he or she experiences, how he or she behaves, how much mental strength he or she has, what he or she invests in it and whether it pays off. You can even see what life situation he or she is in, what he or she clings to, and what he or she sacrifices. Important for counseling is the fact under which conditions the client can change something and in what way he or she needs help. The Method also provides such information.
What no diagnostics can do is revive dry data. It can not go otherwise than with consultation with the client. I'm always very curious about that, sometimes it's funny. To give an example: I can learn from the diagnostics that a young man has a problem with what he looks like and that it has to do with his body and what he can do. What couldn't I learn from the diagnostics? That this man when coming to the consultation must bend when entering the door. He tells me how they considered him older in his youth and condemned his childish behavior and what he could not do for his age. Suddenly, the information from the diagnostics is combined with the reality of life and everything is immediately clearer.
Simply put, the diagnosis points to the area of ​​the problem, but it is not possible to read from it how it manifests itself in the client's life.

Do you remember when you first heard about CA method? What was your reaction?
My first information about CA method was in the style: "It's interesting, fast and it works". One headmaster of the primary school told me they had a problem with one class at school. The psychologist described to them exactly what was the cause and recommended a solution that worked. It was like "magic" for everyone at school. The psychologist did not discuss anything with anyone, only the whole class had to sit down at the computer and assign colours to words. The diagnostics was completed within half an hour. She began to talk to teachers and students no sooner than from the moment she saw what the diagnostics showed. Then she talked about specific things. Together, they came up with a solution that worked.
At the time, I was using Lüsher's color test myself, so I thought, "Ah, probably some new variant I don't know about." I was interested in the practical results I heard about, so I signed up for the course to try out for myself how it works.
Did you need to verify its accuracy? How did you do it?
Well, yes. I don't use what I don't believe. The first personal encounter with the Method was self-diagnostics. It was incredibly consistent with what I was going through at the time and how I used to treat people. Just "magic". But since I have to check everything ten times, I couldn't do otherwise, and I tried CA method on myself a few more times. I wondered what would happen two days in a row or morning and evening. Will it be the same if nothing happens at that time? And what will it do when something fundamental changes? The results really corresponded to life events.
Then it occurred to me to check the information on people I had known for years and nodded that we would talk openly about their lives. Today I know it wasn't a good idea. At the beginning, I didn't completely believe in the results – after all, I knew them very well, they certainly didn't have it that way. When I told them the information, they just nodded. I wondered what they were dealing with in their lives, what I had no idea about. This was my last verification on people I knew this much because my friends were in danger of becoming my clients.
The Method passed a stress test for me. Today I know that even if the results seem unlikely to me, I can rely on them.
What do you see as the biggest benefit of CA method from the client's point of view?
Unequivocally saving time and energy. The diagnostics itself is not strenuous and does not take much time. At the same time, it reveals the core of the problem and at the same time the way to solve it. The client thus saves a negative experience and gains time to solve the problem.
On the contrary, what do you see as the risks of this method?
In my opinion, the risk of this method is the same as with other diagnostics methods, and that is the misuse of information.
The specific risk of a quality method is that it sees below the surface. It threatens to reveal to the public what the client does not want to admit or surprises them that the psychologist is talking to them about a problem they wanted to keep to themselves. If the client's life strategy is based on it and he or she really doesn't want to change it, he or she reacts with the defense. Usually, they do this by questioning the credibility of the Method or its interpreter.
Do you use any other methods or techniques in your practice?
I adjust the choice of diagnostics method to the client's specifications. I must say that I draw the most information from the CA method and handwriting analysis. Both methods provide a complex of information in context, so they can be used for different purposes. Both for clients who come privately and for professional advice or for solving personnel problems in companies. In addition to projective methods, I also use performance tests, most often tests of specific mental abilities or attention. They are a practical example of how a client works under time stress. What I must not forget is an interview with a client, which literally revives dry diagnostics data.
Do you have an example where CA method showed you something different than you expected? How did you proceed in this case?
Certainly, it usually happens to me and I already anticipate it. At the beginning of the interview, I talked about how I verified the validity of information from CA method on my friends and I was surprised to know what I didn't know about them.
I can tell you about a specific case from my practice. I was in the selection process for the manager of a small team. The selection procedure was in the form of an assessment center and lasted all day. The candidate I want to talk about seemed average to me. Someone from the selection committee even remarked that he was only there "an also-ran". But the diagnostics showed the exact opposite. He is a practitioner who does things effectively, behaves naturally and solves problems responsibly, has enough energy, devotes himself to work, and can make a system in it, he acts as a natural leader for the people around him. Simply put, the information from CA method clearly stated that we had overlooked the ideal candidate. And how did it turn out? I communicated the results to the company's representatives and they just shook their heads. It was hard to persuade them to try it with him. After a while, I talked to the HR specialist and she said that she did not understand how it was possible that such good work qualities did not show up in the assessment center when they put so much work into their preparation. I keep saying: "Good diagnostics is a time and energy savior, not only for clients".
Irena's Bio
Education
Masaryk University Brno – psychology – professional study.
Masaryk University Brno – teaching of general education subjects – psychology – Russian language and literature.
Courses and training
Institute for the Study of Font, accredited workplace of the Ministry of Education, Youth and Sports of the Czech Republic – certificate – graphologist.
Ministry of Labor and Social Affairs – Course leading a job club.
Center of Psychological Services, accredited workplace of the Ministry of Education, Youth and Sports of the Czech Republic – basics of graphopsychotherapy.
Institute for the Study of Fonts, accredited workplace of the Ministry of Education, Youth and Sports of the Czech Republic certificate – calligraphy expert.
DAP Services a.s. – basic training, CA method.
Freeman Consulting, s.r.o., Product training Individual profile, Product training Group profile, Product training Psychosomatics, Product training Sports diagnostics, Internal evaluation of the school.
Work experience
Advisory and consulting activities, elaboration of professional studies and assessments – Extracurricular education and training, organization of courses, training, including teaching activities – Provision of personal and personal hygiene services, Psychological counseling and diagnostics.
Expert in the field of Education and Culture, branch of psychology, specialization in the psychology of writing, graphology.
Expert in the field of calligraphy, specialization handwriting
Accredited workplace of the NBU – assessment of personal competence to perform a security check.
Teacher of psychology and social sciences.
Labor Office – specialist clerk in the counseling department.