CA method shows the real client image here and now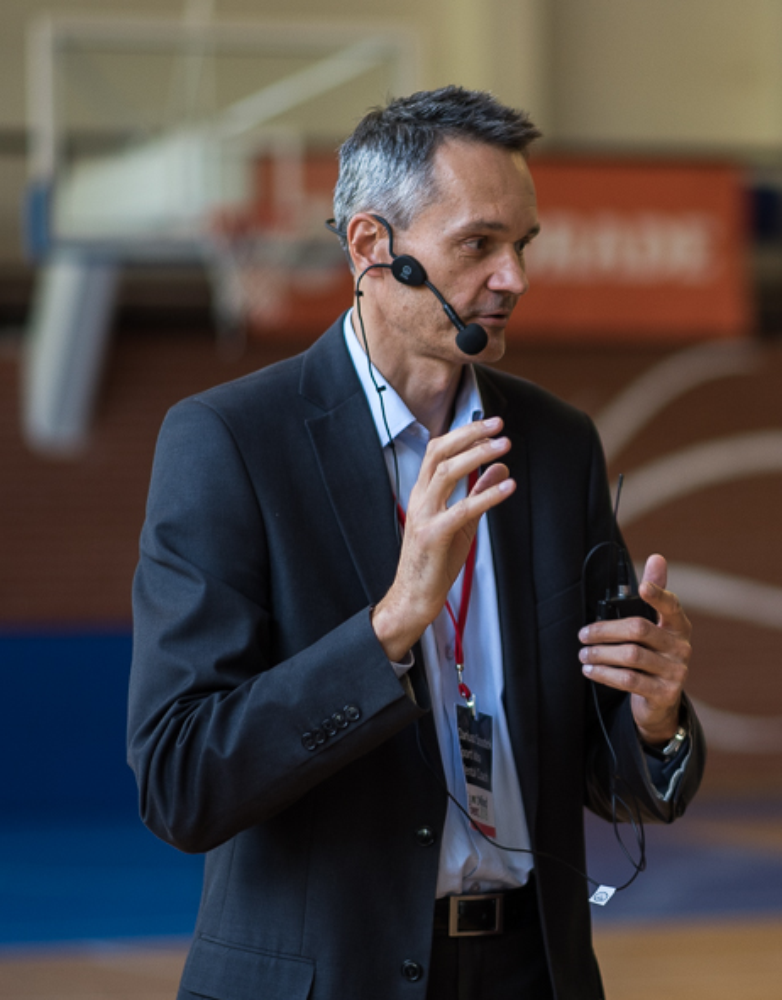 You have been working with CA method for many years. Can you tell us for what purposes do you use CA method and what are its advantages in this area?
I use CA method diagnostics in the area of ​​sport, business, and education. I use them to see what's really going on inside the client or team (sport and business). Then I use this information to work with clients and teams to change them.
It is said that we can consciously control only 2-4% of our behavior and the rest are controlled by the unconscious mind. Therefore, for me as a coach, the unconscious part is the key to human change and development, which is why I work with people to a large extent on this sphere. And CA method allows even kindergarten children to reach into this area! In this way, it creates a communication platform with the world to say what we are not able to say, whether because of the range of words we have (e.g. children and adolescents) or the incomplete awareness of our internal processes or states. In this way, it gives a real, internal image of a person in a given range of reality (sport, work, education).
The use of this Method can be particularly important for young people who are faced with the choice of their further path of education and choosing the target profession. They have their natural inclinations and predispositions that they may not are aware of yet or are difficult for them to articulate. And knowing what they have a predisposition for, and what they can be better at, allows them, and their parents too, to make an aware choice of a better suited high school or college.
Are there any other methods you like to use?
I also like to use the Gallup Strength Test, which is based on a positive psychology approach. Both methods (Gallup strengths and CA method) are complementary and complement each other perfectly in looking at what motivates people and how they can achieve their success. Gallup's talents show their optimal, least effortless way to achieve success and self-fulfillment in the outside world, and the CA method (diagnostics in business) shows how their current environment and life situation affect them as a whole and also shows (e.g. stressors, motivators, roles) the path to unlocking their talent potential. Other CA method diagnostics (in education) also show areas of life in which their talents can especially shine.
Do you remember when you first heard about CA method? What were your first reactions?
Yes. I remember perfectly the first meeting with a representative of DAP Services in 2014. I have been coaching people for several years, mainly working with their unconscious part of the mind. Until the contact with CA method, the only direct measure of such work were changes in their internal feelings, metaphors describing their lives, and then, after a few days, weeks or months also changes in their behavior and life. When I heard about this Method, after 5 minutes of conversation, I knew that it was worth learning about it and using it in each of the areas mentioned above (sport, business, education). I decided then that this Method would allow people to realistically realize what exists inside them, what they may not are aware of, and then, after some time, in the same way, they can see the changes using the same method.
And now, after these few years of experience, I know that it really works.
Did working with CA method bring you any new possibilities?
Yes of course. If it didn't offer new opportunities, I wouldn't use it.
First of all, it enables a faster and more precise look into the depth of a new client. It allows you to see areas inaccessible in other tools and thus choose for development those that I would not have thought of before.
Secondly, it allows you to communicate better with them in a way more expected by them. Thirdly, it shows the real, client image here and now.
It doesn't put the client in any personality or character box. It takes into account the differences in their behavior in various contexts (normal situation, stress, changes) which does no other psychological tools I know.
Fourthly, it gives me the opportunity to check my coaching work with the unconscious part and its impact on the client in an objective and independent way. Sometimes, immediately after the session, you can see huge, short-term changes visible in Mental energy and also there are changes from the long term point of view (I am describing some cases at www.sportimind.pl ).
Fifthly – the CA method gives you the opportunity to work remotely – both during the test and then when discussing it. And this is especially important in nowadays coronavirus times. An image of a person created with the help of CA method diagnostics is enough to open a space to talk about matters important to them, build their trust faster and lay the foundation for change and development.
Did you need to verify its predictive ability and accuracy?
After discussing several hundred different types of diagnostics using CA method, the best verifier of accuracy for me are customer responses. Most often they talk about 90-95% compliance with what they heard about themselves, and what they feel and know about themselves. Of course, there are cases when diagnostics reveal something that is difficult to agree for the client – because he/she simply does not know about himself/herself, or does not fit his/her own image of himself/herself. Such cases are few but even then the compliance determined by customers is 70% or higher.
As for the ability to predict this Method largely depends on the consultant's ability to interpret the results and their reference to the context of the world in which the client moves. At the unconscious level, many processes can occur in response to various situations that affect the client and their final impact cannot be predicted.
So summarizing the answer to this question – CA method diagnostics perfectly reflects what is happening in people here and now with very high accuracy and provides the basis, of course with some error or risk, to predict behavior or results in the near future – which I often use in sport.
Whereas predicting or long-term forecasting will be burdened with a big mistake related to ignorance of the nature of future events or the context in which the person will find himself/herself. For example, the appearance of coronavirus and changes in the external world in some people can trigger the launch of various internal processes that will affect them differently and can also cause permanent changes in their profiles. But this is the advantage of this method. It is assumed that changes are taking place and can be quickly caught, e.g. a change of an environment (e.g. a company or sports club) itself, and the new context of a person associated with it may change their profile visible in the diagnosis.
In case you explain how the Method works to other experts, what do you often encounter?
The basic difficulty of explaining the description of this method is to convince people that this is not some kind of "fun with colours", but a reliable tool that provides important data. For many people, including psychologists, the first reaction is saying or thinking – "this is such a cool toy".
People do not know this method yet and it is difficult to convince them to use it, because it goes far beyond their understanding of the test as "conscious answers to questions". This method does not use questions, so there are no answers, there are only intuitive reactions, and therefore there is also no conscious answer, and this together goes far beyond their current zone of understanding and comfort and encounters resistance.
Then, in the next step, they ask about the basics of the method and references to scientific articles. And these are still few.
Do you see any pitfalls, difficulties or risks when working with the CA method?
The risk of this method is the ability to boycott the measurement, e.g. by constantly choosing three colors. And while standard tests also have the option of boycotting or falsifying results, however, you can always reach their basic answers. And despite the fact that the Method has built-in mechanisms for detecting "stylization" and informing about the possibility of some "falsification" of results, it is not possible to rationally decide at what moment it could occured or in which parameters. With this method, processed data is used to discuss without being able to obtain information about raw data it means – the actual colour choices of the people being diagnosed. And even having this raw data, it would be impossible to determine what parameters in the report it affects due to the computational complexity for this method.
When discussing the results of diagnoses using the CA method in humans, sometimes there is disagreement with the results obtained and their interpretation. Not everyone is ready to see themselves in a different light than they would like. Then the key is the consultant and his ability to talk and present the results in such way that the client accepts these results without assessing them as good or bad.
A certain difficulty may be that customers, after receiving their results, often read them and begin to interpret them in their own way, completely inconsistent with the assumptions, and some therefore start to get nervous and even panic. The way to solve this difficulty is to provide the client with results no sooner than two or fewer days before the meeting and sensitize them not to try to interpret themselves.
Can you give an example of such difficulties and how did you deal with them?
There were many similar examples, but I will give one of the biggest challenges for me in the field of education.
A psychologist from a university who had a son in elementary school before choosing a high school came to me. Her son made a diagnostics and we started discussing it with her. The discussion was by phone. I've never seen this person or her son before and the only data I had was the "image" of her son shared in the diagnostics "Choosing high school".
After discussing two or three parameters, she said that in a fact she did not agree with the results of the whole diagnostics. For example, she stated that on the report, the roles chosen by her son did not match him at all.
She also did not agree with the fact that for her son "I think" as a stressor is not appropriate because "he thinks a lot". When I asked if he "thinks" because he likes it or if he "is thinking", that is, thoughts appear which he may not want. She agreed more to the latter. For me, the important confirmation was when she mentioned that her son at the age of 4 was asking "what is it like to see the world through the eyes of a tree or chair" and was angry that he could not do it. Do you know any child with such thoughts at the age of 4?
At one point in the discussion, she stated that she did not understand her son, because, despite the fact that he has no conditions or predispositions, he goes to football three times a week. Then I came back to the point with the roles of her son and explained where it came from – that it was there in sports, on the pitch, that he found the inner space from unwanted thoughts (from the unconscious part) coming over him because he could be in the roles most convenient for himself.
At the end of the conversation, when I asked how she now receives the diagnostics result from her psychological knowledge and son's behavior, she said that she agrees 90% and also said that "now I will look at my son's football differently". This example shows how from "I completely disagree" by step by step immersion into the world of another person (in this case a child) finally you can get an internal 90% compliance. For this person it was also a process of discovering the needs and world of her own child, and thanks to the diagnostics and her psychological knowledge she looked at them in a new, more real, and coherent way.
Dariusz' Bio
Entrepreneur, Certified Coach And Trainer, SportMind Consultant And Trainer.
Over-Twenty-Years Experience In Business As A Consultant And A Project Manager In The Production And Implementation Of Large Interdisciplinary IT Projects (For The Biggest Bank In Poland, Insurance Companies, Advertisement Agencies, And Others).
He is currently managing the Sport Idea sp. Z o.o. in the field of sport and is developing the Star Level brand dealing with the practical implementation of processes in the organizations of the Turquoise organization and Talent Management concepts based on Gallup Strengths. The creator of the approach – Winner's Mentality Coaching, which is also employing the potential of the unconscious part of people and athletes to permanent changes in the internal attitude and state and thus in their results in the real world. He uses SportMind as well as other CA method based tools reaching into the unconscious part of people. He has worked with leaders, managers, owners of companies, and teams, including athletes and representatives of the country from various disciplines (e.g. world champions or medalists of the world championship).